Because your al-fresco moment could use a little heat.
Forget what you've heard: outdoor entertaining season doesn't have to end when the warm weather does. This fall, exchange summer s'mores for autumn bonfires with a stylish outdoor fire feature. Chill out as you warm up despite the cooling weather, and continue the al fresco fun from summer to fall to winter and spring.
Ready to make your backyard the *hottest* hangout of the season? Read on for 25 fireplaces and fire pits that'll make for the outdoor space of your dreams.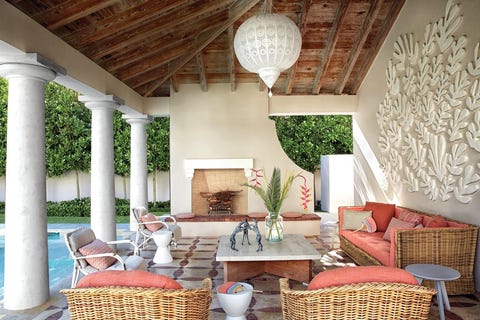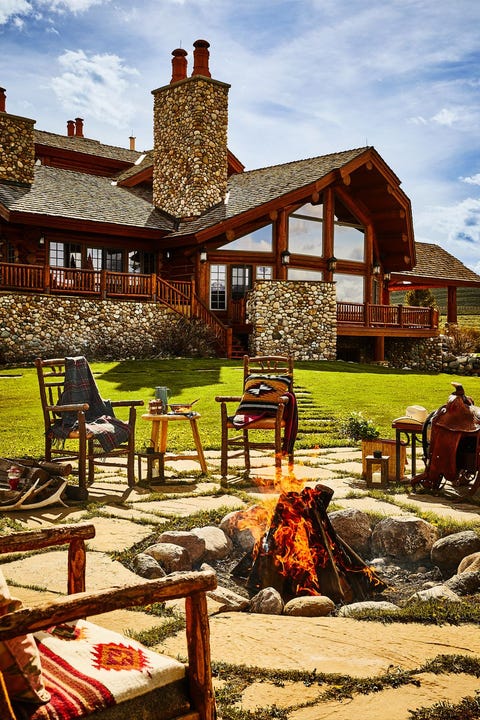 Chairs made from rough-hewn branches surround this Wyoming ranch's in-ground fire pit, which is crafted with large rocks and surrounded by additional stonework.
GET THE LOOK
Woodall Cotton Blanket, $64
3. 
SWIMMING POOL FIRE PIT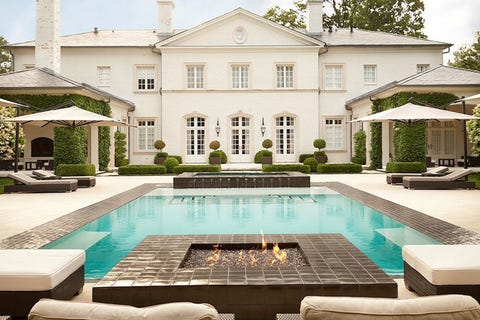 A sleek pool design is finished with a black-tiled fire pit, powered by propane for a modern look.
Design by Howard Design Studio
GET THE LOOK
Outdoor Ottoman, $113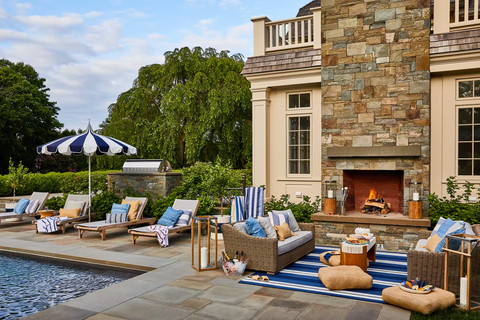 This sprawling Hamptons home is equipped with a dream outdoor hangout space, with an attached fireplace that blends in seamlessly with the home's facade.
GET THE LOOK
Outdoor Area Rug, $32
5. 
POOLSIDE FIRE FEATURE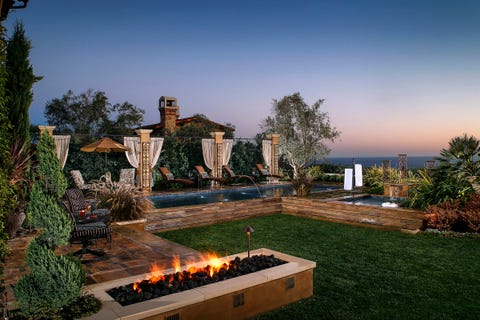 A Crystal Cove backyard design features a modern stone fire feature, which ties together the space with a sleek yet cozy appeal.
Design by Mark Scott Associates
GET THE LOOK
Rectangle Real Flame Fire Pit, $1,300
6. 
CLASSIC NEUTRAL FIREPLACE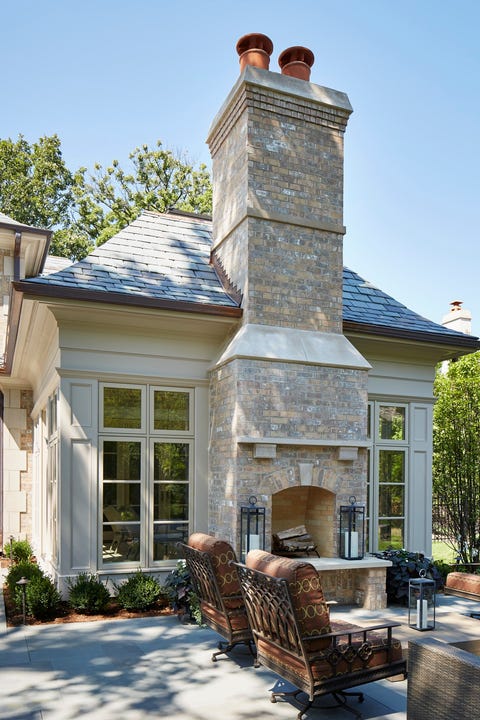 Set between floor-to-ceiling windows, this neutral brick fireplace adds elegance to a welcoming outdoor area from Reynolds Architecture, Design & Construction.
GET THE LOOK
Rimini Lantern, $105
7. 
PAINTED BRICK FIREPLACE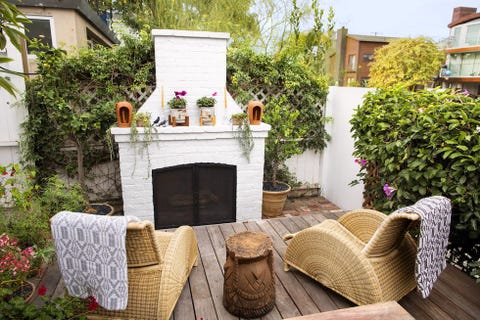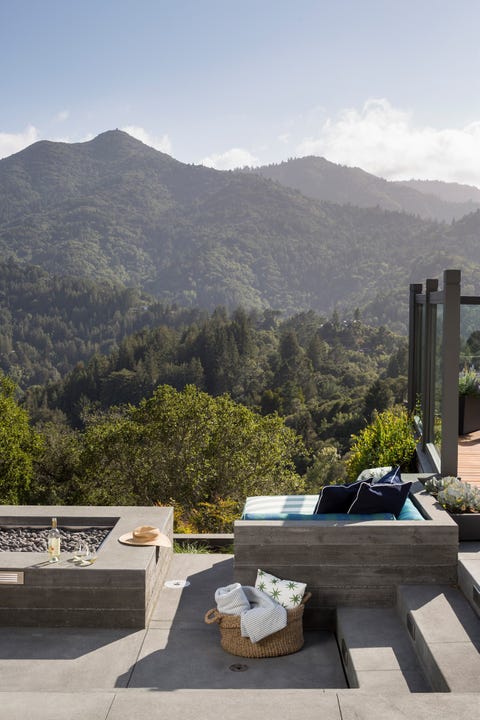 For an outdoor area with breathtaking mountain views, BK Interior Design incorporated a sleek, modern fireplace design for a touch of glam.
GET THE LOOK
Emlyn Basket, $90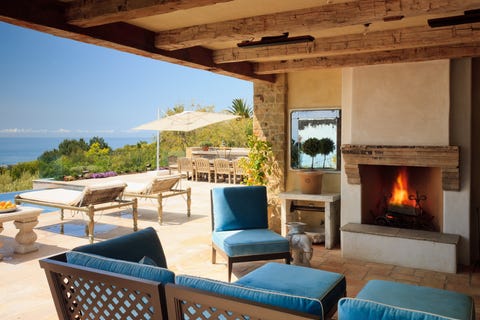 Architect Paul Brant Williger crafted an eye-catching fireplace for an outdoor area boasting a stunning view.
GET THE LOOK
Gillum Outdoor Patio Chairs, $314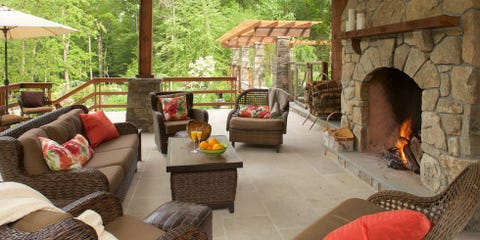 Stonework adds visual interest to this outdoor fireplace design by Conte and Conte. Its understated, earthy color adds to the rustic look of the outdoor space.
GET THE LOOK
Sunset Tulip Throw Pillow, $33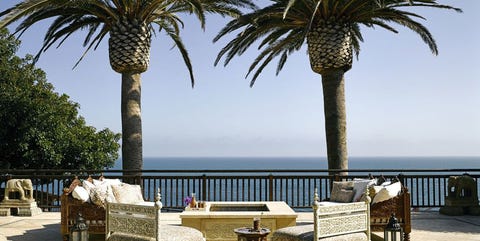 Hollywood designer Martyn Lawrence Bullard conjured an exotic paradise for a Malibu couple, inspired by a passion for Bali. A pair of chairs by Bullard and Indonesian teak sofas surround a fire pit made from 18th-century Indian stone panels; the teak side table is Moroccan.
GET THE LOOK
Moroccan Inlay Side Table, $2,405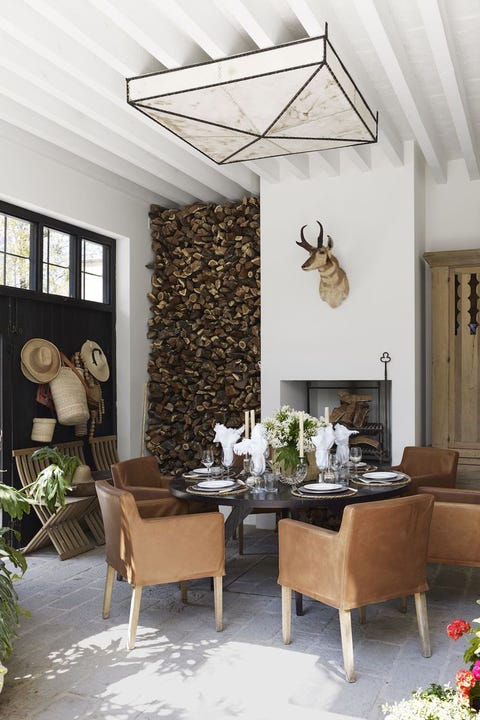 Wood piled high for the fireplace acts as an accent wall, bringing warmth to the open-air dining room of Rela and Don Gleason's home in San Miguel de Allende, Mexico.
GET THE LOOK
Slipcovered Accent Chair, $450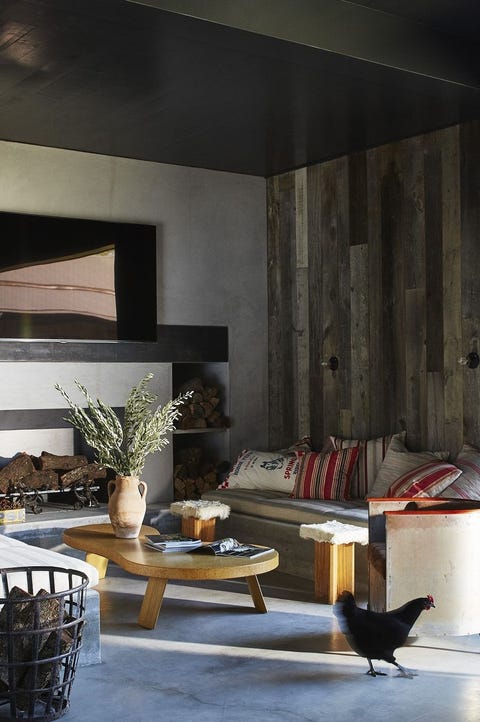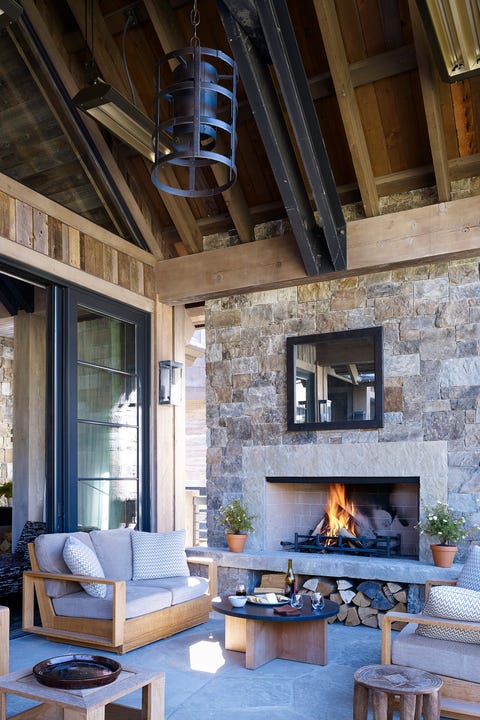 When a Nashville couple bought a property in a famed Montana resort, they wanted to forgo the ski-lodge aesthetic and asked designer Markham Roberts to create a fresh approach to mountain style. The outdoor deck is centered around the built-in fireplace.
GET THE LOOK
Consigned Senufo Stool, $280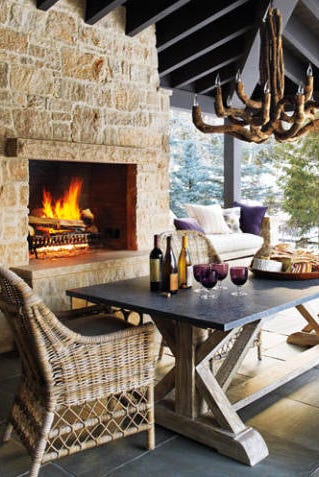 The covered porch of an Idaho home is paved in gray sandstone tiles and features a driftwood chandelier from Mecox Gardens and a limestone fireplace with built-in seating.
GET THE LOOK
Driftwood Chandelier, $2,800
16. 
SNOWY MONTANA GUESTHOUSE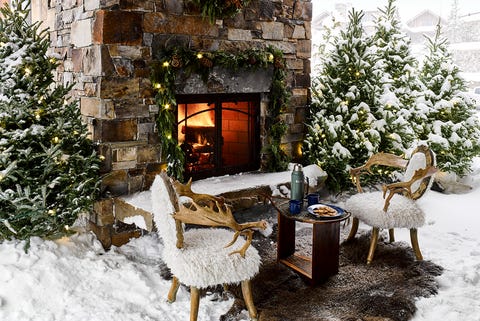 At this cozy guesthouse in the Montana mountains, Ken Fulk created an outdoor living area suitable for even the chilliest of days. An outdoor fireplace is flanked by a pair of sheepskin-covered moose antler chairs.
GET THE LOOK
Sheepskin Chair Pad, $60
17. 
POURED CONCRETE FIREPLACE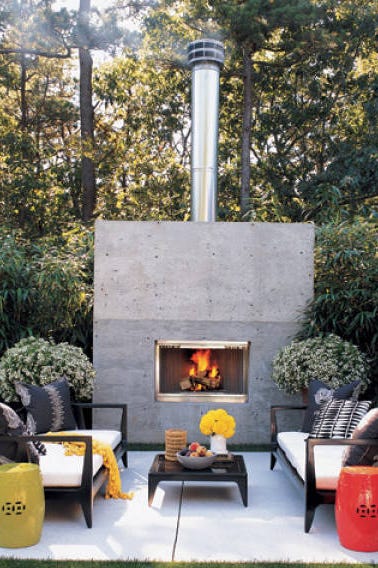 The outdoor dining area of an East Coast vacation home features a poured concrete fireplace, Siesta furniture by DelGreco & Company, and ceramic garden stools by Mecox Gardens.
SHOP NOW
Ceramic Barrel Garden Stool, $145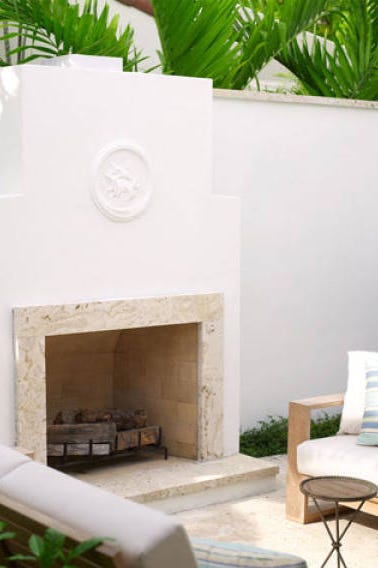 In this Miami home, the fireplace, which is original to the house, has a coral limestone surround and hearth. The side table is by Matégot.
GET THE LOOK
Reeves Aluminum Side Table, $48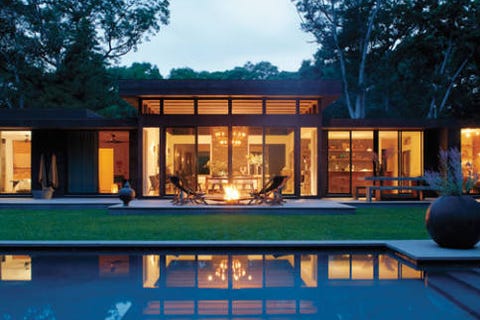 20. 
SLEEK MODERN FIRE PIT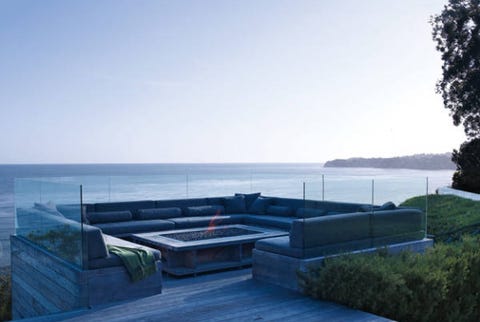 At actress Courteney Cox's Malibu home, a custom-made banquette surrounds a teak-and-steel lava-rock fire pit.
GET THE LOOK
Propane Gas Fire Table, $280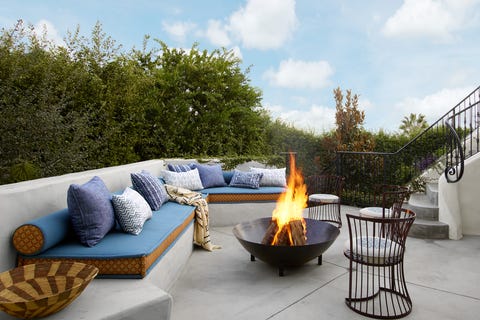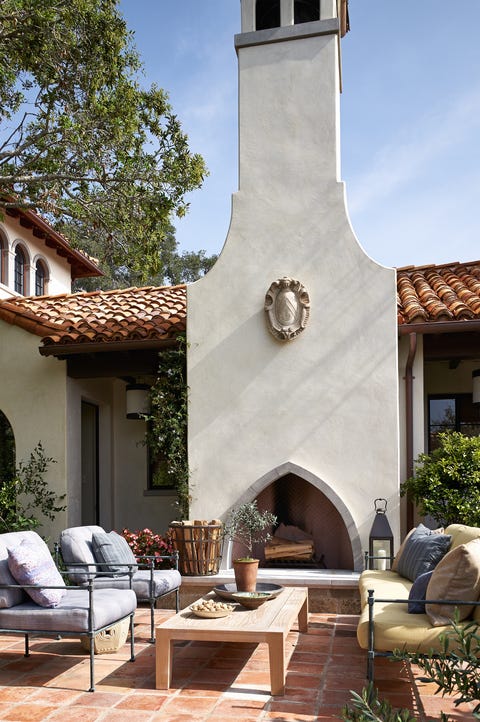 The courtyard in this Hollywood home features a fireplace with a 17th-century armorial cartouche found at Bonhams. The teak cocktail table is by Holly Hunt and the flooring is of reclaimed terra-cotta tiles.
GET THE LOOK
Ojai Coffee Table, Starting at $195
23. 
INDOOR-OUTDOOR FIREPLACE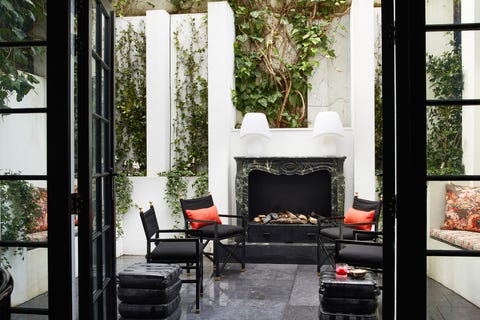 The terrace of this London townhouse is centered with a marble fireplace that was salvaged from the property's original drawing room. The lamps are by José Ignacio Baluster, and the flooring is Belgian bluestone.
GET THE LOOK
Red Indoor/Outdoor Throw, $25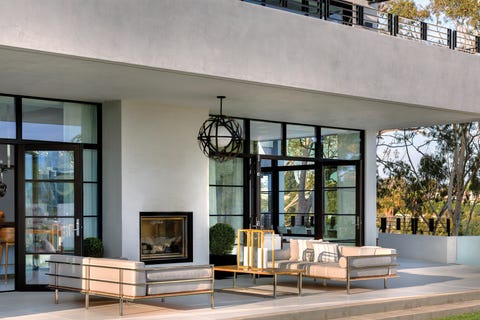 In designer Alison Palevsky's Pacific Palisades home, the terrace's sofas and cocktail table, by Link Outdoor, surround a cozy fireplace. The light fixture is from the 1950s.
GET THE LOOK
White Indoor/Outdoor Throw Pillow, $35
25. 
SNOW-COVERED FIREPLACE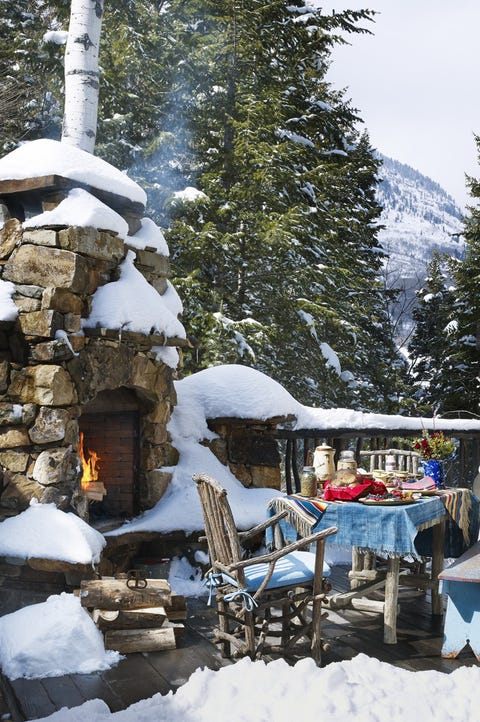 On the deck of a Utah home belonging to fashion executive Buffy Birrittella, locally made chairs, with denim cushions by Ralph Lauren Home, are situated near a charming stone fireplace. The table is covered with a Mali sarong and a Mexican serape.
GET THE LOOK
Denim Seat Cushions, $34